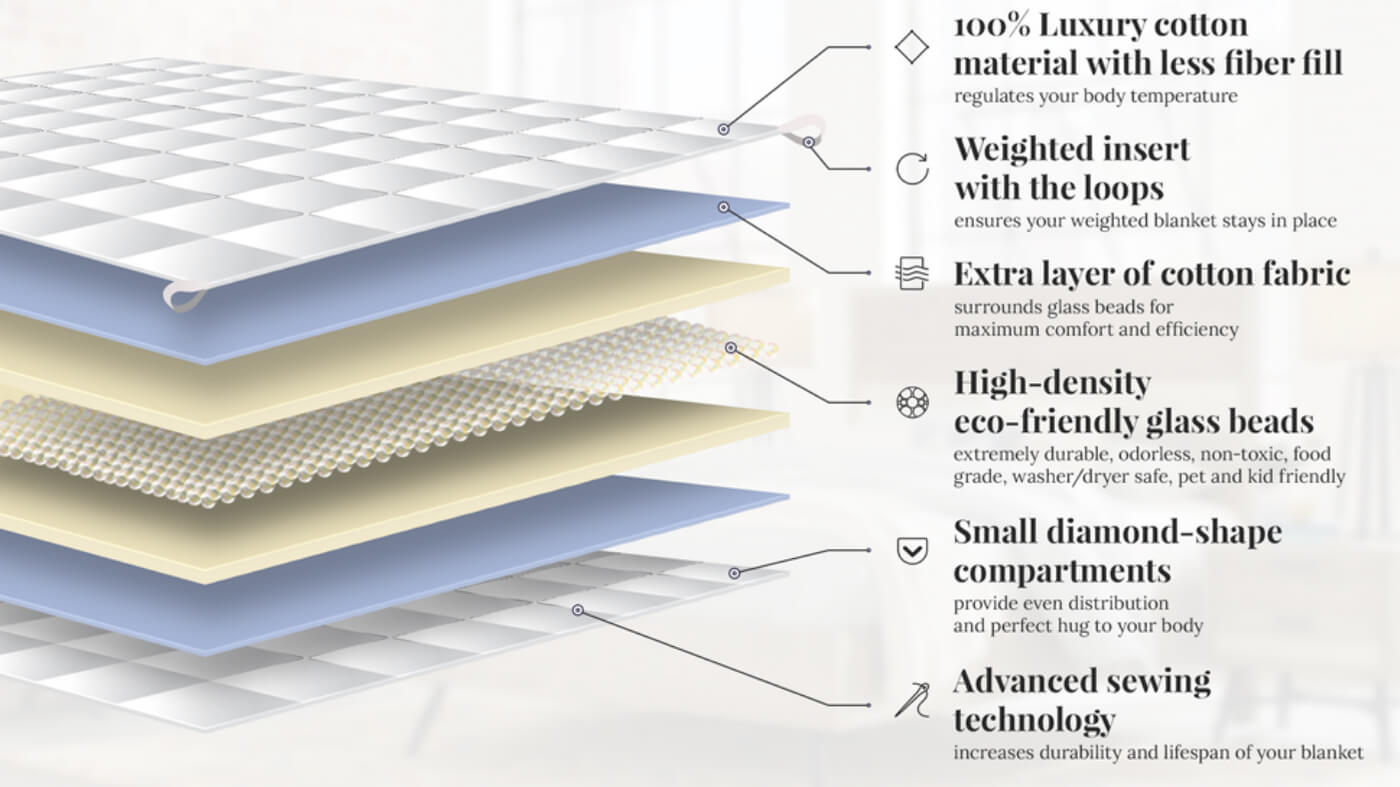 How weighted blankets are made?
Nothing beats the coziness, warmth, and comfort of a blanket if only it is the right type of blanket. You must invest in a good blanket for improving sleep quality and overall health. Weighted blankets have become an ideal sleep accessory that encourages deeper sleep while treating various issues like poor sleep quality or anxiety. 
As per latest research on consumer sleeping patterns, blankets with weight create similar feeling as of a giant hug, which prompts release of happiness hormone Oxytocin. When oxytocin level increases, state of calmness ensues so we fall asleep quickly.
However, regular blankets cannot give all these benefits and you might need to wake up repeatedly just because the blanket is piled on the floor. This never happens with weight blankets. Do you know why? Because of how they are made!
Here's a comprehensive guide on how weight blankets are made.
How a Weighted Blanket is Made?
A professionally manufactured weighted blanket comprises of two parts- an outer cover and an inner section containing weights.  Blankets with weights tend to be heavier than regular down quilts; these can weigh between 5 lb-30 lbs for meeting different body weights/sizes. 
Different manufacturers use different types of weights. There are many types of blanket weights used for manufacturing weighted blankets including plastic pallets, sand or glass beads. Glass beads have become most reliable option because of their superior weight distribution properties over other materials.
Weighted Blanket Outer Cover 
Best weighted blankets come with an exterior cover made with natural, breathable fabrics like cotton or bamboo. Some may use faux fur or polyester, but outer cover made using natural fabrics is much better choice for it remains cool during hot season while being more breathable than most synthetic materials. This means, weight blankets covered in cotton can regulate body temperature more effectively during the night.
Inner Section:
Inner weighted blanket section may comprise of several layers, usually made from cotton, bamboo, or polyester. It is better you buy weighted blanket made with 100% cotton fabric because it is breathable fabric with sweat reducing capabilities. Moreover, cotton is more durable than bamboo and washer/dryer safe as well.
A blanket's inner section contains weight of weighted blanket. Weights are sewn in many square or diamond-shaped quilted pockets; each pocket contains around one pound of weight. The pocketed design prevents weights from leaking.
The idea behind using weights for weighted blankets is to add weight so that blanket stays wrapped around you instead of sliding away like an average, lightweight blanket usually does. Advanced blending process is used for sewing weighted pellets with padding materials. Weights pockets are distributed evenly throughout with little amount of polyfill in each compartment so that it remains comfortable for kids. 
It is worth noting that not every blanket weighted type is made using blending process, only top quality weighted blankets are made this way. Inner section's construction is very important as it can have tremendous impact on blanket's durability or weight distribution. Higher quality models are generally made using blending process, which ensure longer product life compared with handmade weight blankets or other manufacturing processes.
For buying quality weighted blanket,  Royal Therapy Weighted Blanket is an excellent option. These feature a unique 7-layer design containing odorless, eco-friendly, durable, high-density, washer/dryer safe, non-toxic, pet/kid friendly glass beads distributed evenly in tiny pockets with polyfill padding. Even distribution of weight creates right amount of pressure for peaceful sleep.
Their breathable lightweight cover ensures body temperature regulation and adapt to user's changing needs. Such as if weather is cold, Royal Therapy blanket transforms into a warming comforter while during summer it becomes a weighted cooling blanket. 
How to Choose Right Weight Blanket Size?
Ideally, it is more important that you think about weighted blanket what weight rather than its size because it does not make much of a difference. A weighted blanket queen size can be used on a king bed or even a twin bed. 
Generally weigh blankets are available in three ranges- twin, queen, and king sized weighted blanket.
For your information, a weighted blanket king size or queen size is ideal as a bedspread. Weighted blanket queen size is perfect for sleepers who toss and turn too much while sleeping as their size is large enough to let them shift around but prevents them from moving frequently. 
Always buy weighted blankets according to body weight/size instead of bed size for preventing it from sliding /slipping. Gravity does impact weighted blanket weight and a larger blanket will just end on the floor instead of comforting you through the night.
Royal Therapy Weighted Blankets never cause this issue. These are made from premium quality natural, soft, and durable cotton fabric with less fiber, so, cannot slide. This encourages better airflow since these blankets never get too hot. You can buy weighted blanket king sized, queen-sized, and medium-sized for sleeping or lounging purposes, these are your perfect companion either way. 
How to Select a Weighted Blanket Weight:
Thinking about purchasing Royal Therapy weighted blanket for anxiety or to fall asleep quickly? Select the right weight blanket to enjoy all the benefits it has to offer. Whether you are buying weighted blanket for toddler or an adult, always select it after examining 10% of your bodyweight. 
For instance, if toddler's bodyweight is between 30-40 lb, order 5lb weighted blanket; for kids weighing between 40-70lb buy 7lb weighted blanket. 
For adults, there are many different weight options. For bodyweight between 90-150 lbs weighted blanket 15 lbs will be perfect while those weighing between 150-200lbs can order 20lbs weighted blanket. For bodyweight above 200lbs, Royal Therapy offers 25lbs- 30lbs weighted blankets too. 
Check out Royal Therapy weighted blankets reviews for finding out more about their diverse, long-term health benefits. Anyone can avail their health benefits from toddlers to teens, older folks or adults. The key is to select the right weight and size.